Chapter 4: How to Best Utilize Your Brand Promotion and Data
Data can help businesses make the most of their brand promotion ideas, allowing them to identify the success of their promotional campaigns and the parts that could use improvement. It's essential to understand the different types of data and what data is the most important to your brand promotion success.
This chapter covers three data types — activity, observational, and sales data. You'll also learn how to use your collected data effectively to ensure that you can improve your campaigns and continue to use the same ones that generate your success.
Different Types of Data
Companies collect various types of data to measure their success, including the success of their brand promotion campaigns. This data can help you understand how different campaigns succeed and where you can improve. Once you've collected your data, you want to examine it and look for errors to ensure that it is effective for your business.
Understanding the types of brand promotion data will help you make future promotional decisions, allowing you to keep what works, throw out what doesn't, and consider new opportunities to increase brand awareness and engagement.
Activity Data
The first type of data that companies collect is activity data. When you create a new promotion, it's up to your field representatives to set up displays or booths properly and maintain them, even if you're a small company. Your representatives must be consistent, timely, and on-brand for your promotions to work, which is why you should track what your team does in the field.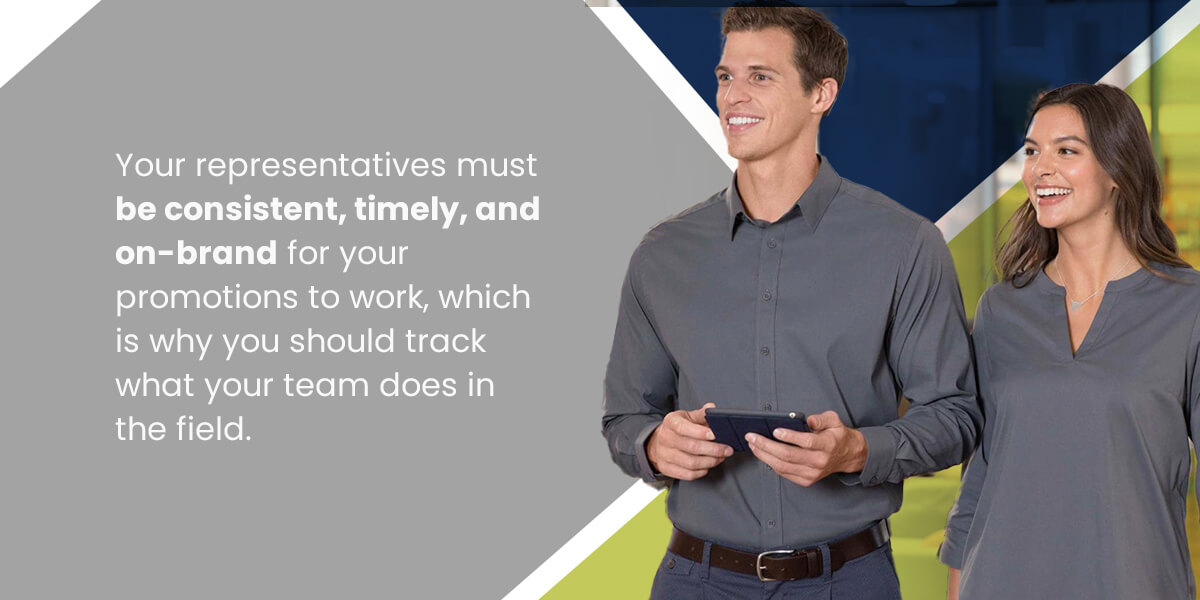 Various metrics you can track include time in-store, visit frequency, and total territory coverage. Here are a few ways you can track activity data and maintain your brand promotions:
Comparing the time it takes to set up a promotional display to a representative's total time in-store to determine where you can improve displays or representative efficiency.
Ensuring a coordinated rollout of promotional materials by scheduling representative account visits, setting tasks for them to complete once they arrive, and reporting the data to identify potential gaps.
Sustaining sales boosts from additional promotional displays by tracking when your representatives last serviced their specific accounts.
Observational Data
Observational data looks at how well your promotional efforts and materials are maintained. If you have damaged displays and promotional materials, it can impact their effectiveness, making it challenging to measure their sales impact and full potential. Observational data can help you measure active promotions, stock levels, in-store presence, displays, and any other information that could become detrimental to the effectiveness of your campaigns.
Here's how to ensure your brand uses observational data correctly:
Improving all current and future promotions based on collected data, such as foot traffic and shopper reception.
Checking in with representatives to confirm that promotional materials are being handled correctly.
Ensuring all displays stay in good condition and adhere to your brand guidelines by asking your representatives to take photos and complete surveys on specific parts of your promotions.
Sales Data
While there are many reasons a brand might run a promotion, one of the most common reasons is to boost sales. Understanding how specific promotions affect your sales can help you create successful future promotions. Measuring sales data can help you track critical metrics, such as sales figures during specific promotions and how they compare.
You can use the sales data you collect in the following ways:
Looking for sales increases from previous promotions to determine which type of promotions to run in the future. You can combine sales data with observational data to help you make the best choice.
Using previous sales data from past promotions to determine if running the same promotion with the same retailers or in new locations with the same chain is worth it.
Looking for immediate sale changes after a promotion begins. If you don't notice a difference, it could mean the campaign wasn't set up correctly or was ineffective.
These three data types provide a complete picture to brands, helping them understand where their promotions are working and where they could use improvement. Brands that use this data to make effective changes can gain an edge over competitors that aren't taking advantage of their data.
How to Use Your Data Effectively
Your data can help you develop a deeper understanding of your audience, which is essential for creating tailored and targeted marketing campaigns. Without understanding your audience, your brand promotions may not reach the right people, which could affect your bottom line.
You can use your data to inform your promotional strategies in many ways, including the following:
Looking at the correct data: Marketers have access to immense amounts of data today, so you want to determine what information is the best to look at for the benefit of your business. Some benchmarks can lead you in the wrong direction, so you want to focus on the data that can give you the answers and guidance you need. There's a common misconception that more information is better, but what really matters is using critical data to help you improve your promotions. Be sure you look at the appropriate data for your brand.
Analyzing relationships: You'll want to examine the relationships between your campaigns and revenue to determine what works and what doesn't. Studying the connection between your tactics and the response can help you improve your promotions. You can analyze different types of data, including leads, impressions, and likes. You can measure the costs of each indicator and its success so you can determine the return on your marketing investment.
Reassessing your strategies: You should look at your strategy every quarter to determine its success. For example, you should analyze your social media and websites to check leads and decide on your promotional success. Once you've determined where your strategy is low, you can make adjustments for improvement. Look at your current strategy from all sides to determine how you can best promote your brand and encourage consumer engagement.
Taking holistic approaches: Marketers often overlook simultaneously assessing their performance across multiple channels. Each channel you use plays a different role in the consumers' path to purchase, and one channel can impact the performance of the next. For example, you may run a television advertisement and notice an uptick in online activity shortly after. If you're only assessing your online activity, you likely won't see the connection, so it's essential to look at all your channels together.
Keeping an eye on attribution: You want to make your promotion decisions based on maintenance costs and increased revenue. Certain tools can help you attribute your goals to specific marketing channels. Only then can you determine which of your marketing channels are creating your biggest investment return and how much of your marketing budget you should allocate to each.
Creating a standard for measuring metrics: You can use many programs and methods to calculate your metrics, so creating a standard way to measure each of them is essential. Once you know how to interpret your reports accurately, you should continue testing and learning so you can make effective changes to your marketing strategy. Continuously adjusting allows you to keep up with changing consumer demands, maintaining the relevance of your brand.
Defining your wins and losses: The first step is determining your organizational objectives and which metrics matter to your business. Determine what your desired outcomes look like and which methods are ineffective or inefficient. You can decide which promotional activities work best for your company. Finally, you can allocate the appropriate resources to your promotional activities, allowing you to maintain what works well and move resources away from promotional campaigns that aren't helping you achieve your goals.
Figuring out the story behind your data: You'll need to determine the story behind your information or what it's telling you. For example, your data can tell you what visitors are paying attention to and what they're ignoring within your promotional campaign. Once you know what consumers care about, you can start generating more promotional content that suits their needs and helps you generate leads.
Remember that your business is only as effective as your marketing strategy. Marketing and branding reports are an essential part of your business that can help you determine what promotional tactics are working and which ones you can redo or eliminate completely. Correctly interpreting your data plays a significant role in your ability to make effective changes, so you want to use the steps above to ensure you're using your information effectively.
Use Your Data to Push the Best Promotional Products
One of the best brand promotion ideas to help increase awareness and visibility is using promotional products, whether you hand them out at events or use them as rewards during contests. Promotional products can help you further your successful campaigns or make improvements to the ones that aren't working as well.
SourcePromo has over 400,000 promotional products for you to choose from, including apparel, office and writing supplies, drinkware, and technology, to help you promote your brand in any way you choose. On top of our extensive collection of promotional products, we also have various services to help you make the most of your selected items. For example, we can help you with graphic design to ensure your logo, brand message, and contact information is communicated effectively, ensuring you can increase your brand awareness and visibility.
You can browse our collection of products to find the best items that fit within your brand values and identity. Contact us today to learn more about how we can help you use promotional products to improve your data metrics or request a quote!
---